Medieval Villages in Tuscany - Casole d'Elsa
Placed in the high Val d'Elsa, in a border territory harshly contended during the centuries by Florence and Siena, the castle of Casole is remembered since the 11th century as an important fortification of the bishops of Volterra, but became a free Municipality since 1201.
Entered the range of influence of Siena in 1240, after a short occupation by the Florentines passed definitively undr Siena's domination after the victory of Montaperti (1260).Some epemerals claims of autonomy, supported by one of the main families of Casole, the Del Porrina, forced Siena to rebuild in 1359 the ancient fortress in the typical shapes of te military architecture of Siena.
A similar measure recurred at the end of 15th century when the fortifications were readapted with the intervention of Francesco Di Giorgio; the two circulars towers in the North-East side of the walls date back to this last intervention.
The circle of walls is for most part visible in the elliptical shape characterising the village.
The built-up area seems develope around the central axe connected the two main gateways (nowadays lost) that dei Frati northwards and that al Rivellino southwards near which there is the Rocca Senese (nowadays seat of the Town Hall).
Along the main road nowadays via Casolani, many charming palaces follow one another that peserve meaningful remains of medieval structures (most all brick archivots of doors and windows). Among these stand out the ex Convento dei Serviti, at the northern entrance of the village, the 13th century Palace and Tower dei Porrina, the Palazzo Pretorio with the facade decorated with escutcheons and, finally, the collegiate formerly parish church of Santa Maria Assunta, consacrated in 1161, which preserves the facade and the perimetric walls of the Romanic building from the 12th century.
(Source: Bruno Bruchi e Alessandro Naldi,
Medieval Villages in Tuscany
.)
See also:
http://www.casole.it/
http://www.turismo.intoscana.it/site/it/localita/Casole-dElsa-00005/
Photo of Casole d'Elsa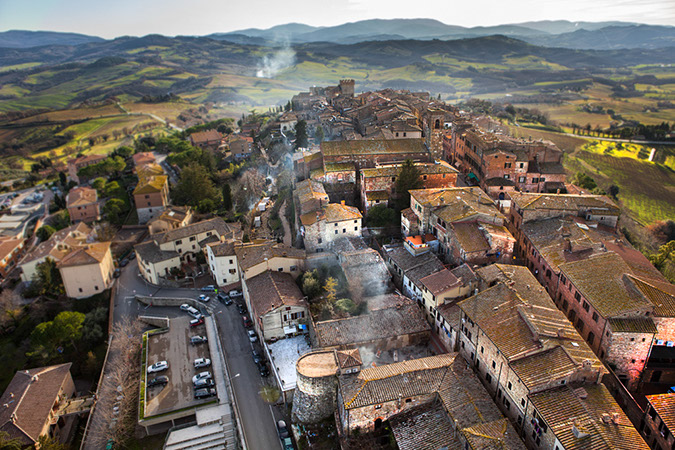 Photo of Casole d'Elsa

Photo of Casole d'Elsa